Finding a Reputable Locksmith in Chicago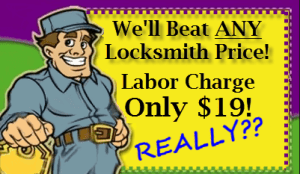 We've all seen the internet ads, flyers, and other promotions that read "$19 Dollar Locksmith", "Cheap Chicago Locksmith" or "Only $15 Locksmith Service Charge" but do not be deceived!
There are many dishonest locksmiths operating in the Chicagoland marketplace that will use the old "bait and switch" con game, just to get you to call. Though it may seem obvious to the average person that there must be something more to this price, unfortunately, a lot of people fall for it every time!
So Here's the Scenario:
You're placing groceries inside your car and mistakenly place the keys in the trunk as you load. When you're done, you close the trunk and in an instant, you remember… The keys!
You quickly whip out your trusty smartphone and locate a locksmith and request service. You even contact more companies in hopes that someone will arrive sooner, rather than later. Whoever gets to you first, receives your business, right?
Then you think to yourself, this won't so bad.  "…I've called a number of locksmiths, they're all on their way, and they ALL have the "$15 or $19 dollar locksmith" advertisement".
Wrong!
There are a few things wrong with this scenario.
To begin, there are a number of very unscrupulous locksmiths working in our market, betting on your desperation.   They arrive at your location and appear pleasant enough until they present you with a bill that's 10 times what they quoted.
Now you are furious!
You say to them, "This is not legal", and decline to pay them. In the meantime your food in the trunk is thawing, you're behind schedule on all the things that you need to do that day, and the kids are getting anxious & tired. You'd be shocked to learn that most people will pay them, and gripe the whole way home!
So how much do these dishonest locksmiths charge?
Usually, about 400 to 500 percent more than you expect! So a $15 phone quote develops into $350 easily! Unethical locksmiths are depending on your distress and naivete.  In many cases, these guys attempt to bully customers to pay more. Follow this link to read a news story that we covered about fake locksmiths operating in the area.  Click Here.
An ethical and qualified locksmith that prefers your repeat business will furnish you a precise quote on the phone long before he arrives, and inform you that they are licensed, and members of ALOA! He will not sidestep your questions nor give you "a line". Respectable locksmiths need your repeat business and wish to give good rates and great customer service, therefore do not be misled by the low-priced ads you see.
How to locate a Reputable Chicago locksmith
Call around to identify locksmith companies that have the following:
1.  They are licensed with the State of Illinois
2.  They are members of respected associations like The Associated Locksmiths of America (ALOA).  Though this type of information is usually displayed on their website, if you don't see it, ask them.
3.  Make sure they are Insured.
3.  Find out what others are saying about them on the internet.  Look for reviews in Google, Yelp, and other business directories.
4.  Give them a test.  Tell them that you locked your keys in the car and you need a quote for service.  Most reputable locksmiths will provide you with a solid quote on the phone, with no hidden fees.
The very best locksmiths are those who do not mind your questions because they want to help you.
These professionals will offer rates or flat fees on certain calls without hidden costs or "bait and switch scams. Beware of the Locksmith that declines to offer a solid price, is not licensed, insured, or not members of ALOA … this is a dead giveaway to a con artist.
Immediately after you've identified a Locksmith, put their phone number in your cell phone, pocket, or phone book. Also, recommend this locksmith to your close friends and business associates to spare them trouble in the future.  Finding a reputable locksmith doesn't have to be difficult if you arm yourself with the information you need to make a wise decision.
At Keyway Lock & Security, we are reputable Chicago locksmiths who are licensed & insured.  Not only do we provide you with a solid quote on the phone, but we also provide great customer service.  Check out what some of our customers have to say about us in Google, & Yelp!  We are also proud members of the Associated Locksmiths of America, the BBB, and are preferred vendors of  Geico & AAA.  Give us a call when you are in need of assistance or add us to your contacts for future reference.
We can be reached at 773-767-5397.
If you have been a victim of unethical locksmith practices, complaints should be filed with the BBB and the Federal Trade Commission.  The link below will take you to the FTC site where you can file a complaint.
http://www.ftc.gov/bcp/edu/pubs/consumer/alerts/alt032.pdf.